SouLive with JoFoKe (Every 3rd Thursday)
I know… We still look like just a blog as this site is under construction but, in the meantime, you can find the show schedule, join my mailing list and get other detailed JoFoKe information at www.ReverbNation.com/JoFoKe! And, of course, you can find me on Facebook, Twitter, Instagram, so on and so forth! And, THANK YOU for bearing with us!!! 

Starting NEXT Thursday, September 19, 2013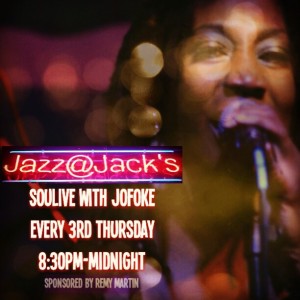 PLEASE HELP ME SPREAD THE WORD & GET YOUR HINDPARTS THERE!!!
LOVES!!!

About The Author
JoFoKe (Joslyn Ford-Keel) is fabled to have been born with microphone in-hand. She was raised engrossed in performing and worship artistry by her classically trained jazz pianist father, choir director mother and all around musical family. This eclectic artist grew up active in music, theater and dance but perhaps the greatest impressions were left when she was given a chance to "sit-in" with her family and friends' bands, vocal groups and orchestras. JoFoKe (pronounced: Joh-Foh-Kee) emerged on the profession Colorado music scene as a teen and, because of her sophisticated musical ear, attention to detail, and ability to effectively adapt her sound to most sounds and styles of music, was quickly dubbed a chameleon. Not your average pop girl, JoFoKe earned her Bachelors of Arts degree in Music, studying musical techniques ranging from jazz and classical to soul, gospel and Negro spirituals. A former member of the Fisk University Jubilee Singers™, JoFoKe renders a unique, youthful artistry infused with spoken word and many music genres including soul, classical, rock and Christian music. As a writer, she draws from her faith, experiences, observations and education. As a result, compositions and arrangements are an eclectic art form of their own. She calls her musical blend of storytelling "Life Music". Currently, JoFoKe is materializing as an artist to watch. She also remains a highly sought after session and stage vocalist, songwriter and arranger. JoFoKe's passionate delivery, personal testimonies, poetic styling and magnetic energy produce a distinct and refreshing experience for all "within reach".